Early detection of electrical hotspots
Advance warning of electrical temperature changes to help prevent power outages

Continuous thermal monitoring for critical electrical assets

Extract real-time asset data to enable analysis and insight

Solutions for both new build and retrofit applications

Switch from periodic inspection to 24x7 monitoring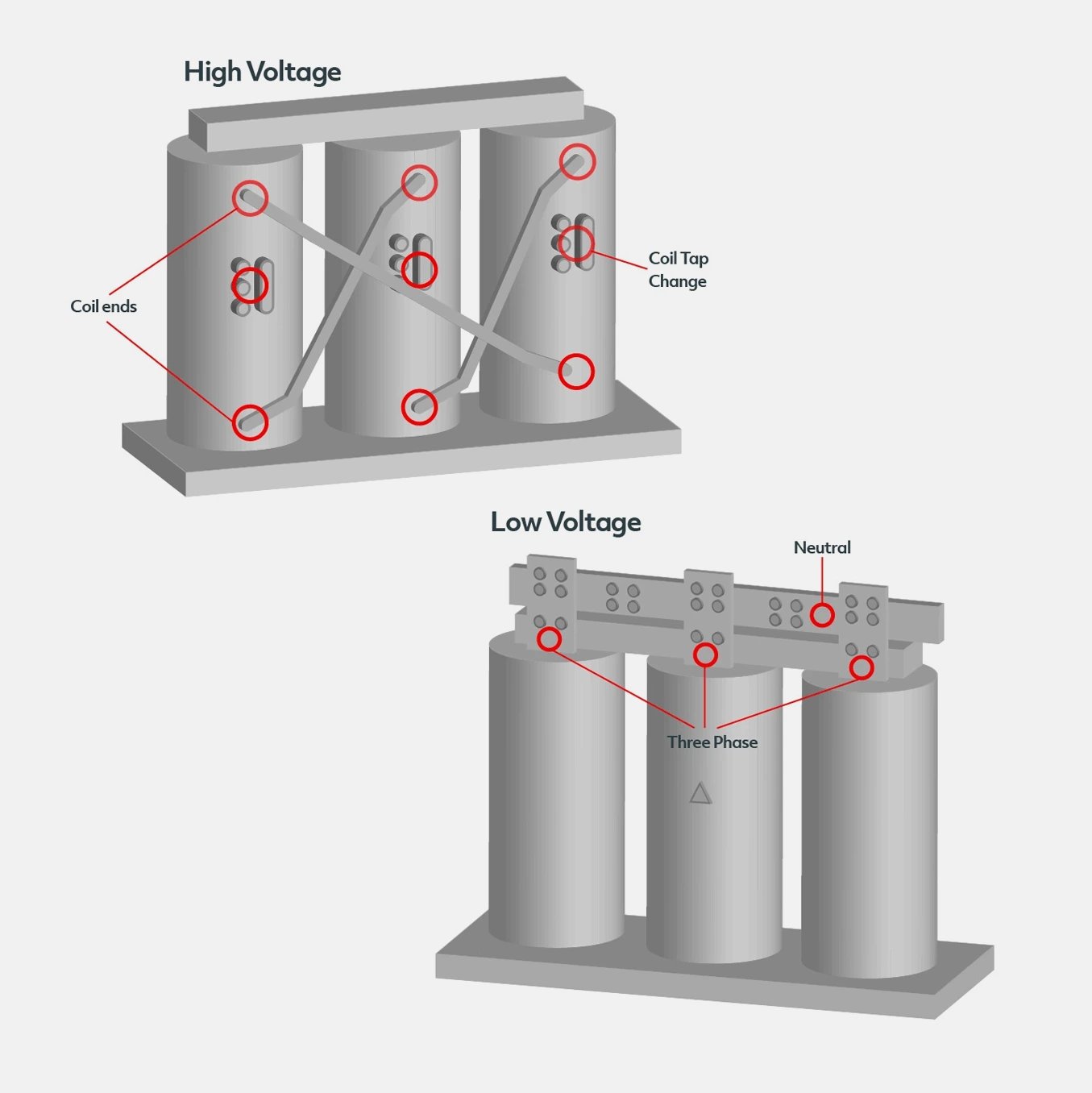 Protect critical electrical infrastructure with Continuous Thermal Monitoring.
For High Voltage:
IR Sensors continuously monitor both ends of each coil
IR Sensor also continuously monitor coil tap connections
For Low Voltage:
IR Sensors continuously monitor the three phase and neutral
IR Sensors then connect back to the Exertherm Modbus Datcard, which collects and transmits the Sensor temperature data, and activates alarms when a fault is detected.
Benefits
Exertherm® Dry Transformer Solutions provide early warning of potentially compromised assets before they fail and cause an unplanned outage. The Dry Transformer solution alerts personnel to thermal changes in critical electrical assets that the eye can't see, but may present problems such as failures, or worse, arc flash. This 'fit and forget' monitoring technology gives peace of mind that assets are operating at a safe temperature.
Reduce the likelihood of electrical failures and improve operational stability with 24x7 monitoring.
Reduce human interaction with potentially faulty assets to increase personnel and on-site safety.
Reduce electrical fire or explosion risk resulting from arc flash due to compromised electrical assets.
Lower the need for additional costs and the unnecessary intrusion of unplanned maintenance.
Features
The Dry Transformer solution from Exertherm is suitable for both new build and retro-fit installation, and also OEM vendor neutral.
Permanent installation
Permanently installed sensors are fit-and-forget technology that continuously monitors the temperature of critical joints or connections.
Super efficient
This non-contact and non-powered solution creates it's own power supply from within the asset to monitor critical bus and joint connections.
Lifetime guarantee
We're so confident with the resilience built into Exertherm technology that we provide a lifetime guarantee on our sensor hardware.
Real-time data
Once installed our sensors work 24x7, 365 days a year to continuously monitor your critical electrical assets and provide condition data.
Product
IR Sensor
Exertherm Modbus Datacard
ARM XL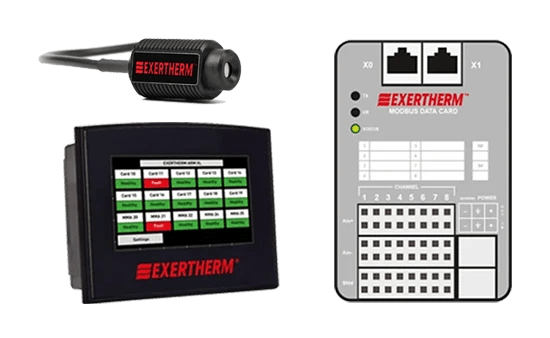 1
1
IR Sensor
For busbar joint monitoring
2
2
Exertherm Modbus Datacard
Collects data from 8 x IR Cable sensors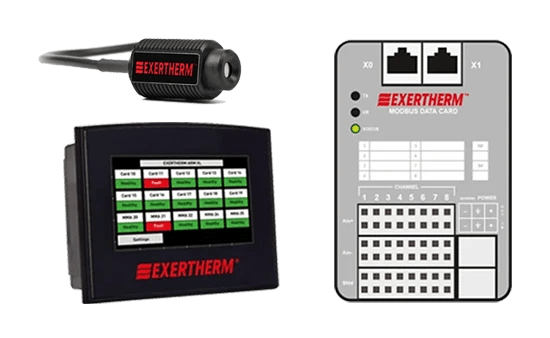 1
1
IR Sensor
For busbar joint monitoring
2
2
Exertherm Modbus Datacard
Collects data from 8 x IR Cable sensors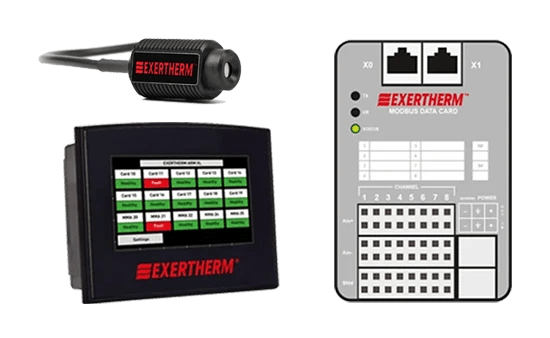 1
1
IR Sensor
For busbar joint monitoring
2
2
Exertherm Modbus Datacard
Collects data from 8 x IR Cable sensors
Connectivity
There are two connectivity options available:
Raw Data Transfer
Modbus RS485: Exertherm Datacard direct to BMS/SCADA Via converter TCP/IP to BMS/SCADA
Exertherm ARM XL HMI
Local graphics on HMI & status LED + local/remote alarms + transfer of raw data via Modbus TCP/IP
Why Choose Exertherm?
Exertherm® is the global number one provider of 24x7 Thermal Condition Monitoring for electrical infrastructure, successfully installed worldwide by all major OEMs. We deliver complete solutions for LV/MV Switchgear, MCC Drawers, Dry Transformers and more. We're so proud of our proven reliability we even offer a zero maintenance lifetime guarantee.
24x7 Thermal Monitoring
Simple Installation
Increase Team Safety
Zero Maintenance
Lifetime Guarantee
Need more info? Let's talk
Get in touch to find out more about Dry Transformers by filling in the form. One of the Exertherm team will reach out to learn more about your requirements as soon as we can.

Need technical help?
Reach out to an expert for support
Commercial enquiries
Our sales team can help you