Motor controllers are electronic devices that regulate the start, stop, and protection of electric motors. An essential component in many industrial facilities' electrical infrastructure, Motor control centers (MCC's) are the electrical enclosures that house the motor controllers to enable the functionality of equipment and machinery from a single, central location.
What's the difference between an MCC drawer and MCC bucket?
Motor control center in-bucket and in-drawer options are modular units designed to simplify the installation and replacement of motor controllers. The MCC 'bucket' is typically square or cube-shaped, whilst the drawer is exactly what you might imagine - drawer-shaped. The primary reason for these two component design options is how they are mounted, and the standard they comply with: MCC buckets are ANSI compliant for North America and some selected regions, and MCC drawers are IEC compliant, typically covering the rest of the world.
Both MCC buckets and drawers are typically made of metal and are intended to keep the motor control center safe from external elements, and provide a simpler and more versatile way of providing motor control for electrical power distribution.
MCC's typically comprise the following parts:
A power distribution system to provide electricity to a motor control center

Several motor controllers

A control panel from which operators can start, stop, and monitor motors

A safety mechanism that safeguards motors against overloads and other risks
Permanent 'In-drawer' Thermal Monitoring for MCC
Datacenters
Oil & Gas
Finance
Utilities
Healthcare
Mining
Marine
Petrochemical
The Exertherm® 24x7 MCC Electrical Monitoring Solution
The Exertherm® 24x7 Motor Control Center (MCC) Electrical Monitoring Solution permanently monitors the thermal condition of the power 'IN / OUT' terminations at the rear of the MCC drawer. The MCC solution is provided in a simple and easy-to-fit kit per drawer, comprising Thermal Sensors, Datacard and LED status light. The MCC solution provides local and remote Thermal and Phase Imbalance alarms.
Datacenters
Oil & Gas
Finance
Utilities
Healthcare
Mining
Marine
Petrochemical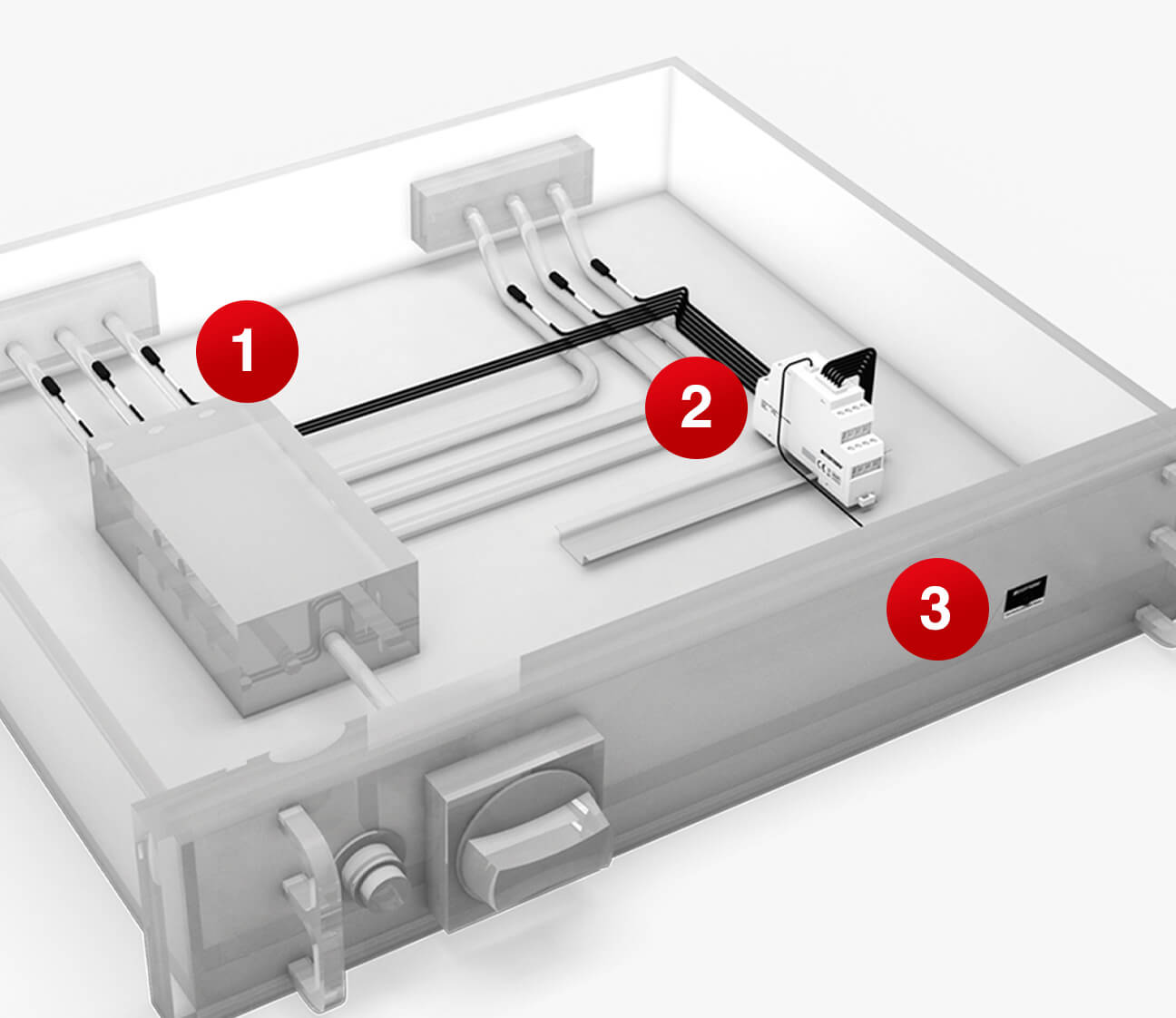 Inside the MCC Drawer
Our non-powered Sensors connect directly to the critical incoming / outgoing power connections, continuously monitoring temperature

The MCC Datacard collects the Sensor temperature data to activate alarms when a fault is detected

LED displays system status
Features
Supplied in kit form per MCC Drawer
Disconnects and removes with drawer
Drawer mounted LED provides local visual condition status
Thermal Alarms via relay and Modbus to SCADA/BMS
OEM Vendor Neutral
Phase imbalance alarm for motors
Benefits
24/7 All Year Round Protection
Reduced Risk of Outages
Increased Safety
Low cost Fit and Forget solution
No future inspection downtime
Suitable for new build or retrofit
Why Exertherm?
Exertherm® is the global number one provider of 24x7 Thermal Condition Monitoring for electrical infrastructure, successfully installed worldwide by all major OEMs. We deliver complete solutions for LV/MV Switchgear, MCC Drawers, Dry Transformers and more. We're so proud of our proven reliability we even offer a zero maintenance lifetime guarantee.
World No.1 Thermal Condition Monitoring Solution with Proven Reliability

Zero Maintenance & Lifetime Guarantee on Sensors

Complete Thermal Monitoring Solution for LV/MV Bus, Cable, MCC + TX

Sensors providing accurate data of uniform quality are a key part of the IIOT jigsaw - no sensors = no data

Wireless sensors pose a potential hacking threat to critical infrastructure. Exertherm is hardwired, and thus avoids any potential hacking issues.

Exertherm solutions are accepted & have been successfully installed in major projects globally by all major OEMs.
Find out what makes Exertherm® the World's No.1 choice in our brochures and white papers.
View Downloads
What's included in the Exertherm® MCC 'In-Drawer' kit?
Datacard Collects Sensor Data
Sensor Loom Connects to key monitoring points within the MCC
Status LED Displays current monitoring status
*Components and quantities will vary based on your requirements.
Connectivity
The MCC thermal monitoring 'In-drawer' solution can be connected in 3 ways.
Relay Only
Local status LED + local/remote alarms.
Exertherm® ARM XL HMI
Local graphics on HMI & status LED + local/remote alarms + transfer of raw data via Modbus TCP/IP.
Exertherm® MCC Aggregator
Local status LED + local/remote alarms + transfer of raw data via Modbus 485.
Global OEM Approval

24x7 Thermal Protection

Zero Maintenance

Lifetime Guarantee

Simple Installation