Permanent and Predictive Thermal Condition Monitoring for Cast Resin Core Transformers
Datacenters
Oil & Gas
Finance
Utilities
Healthcare
Mining
Marine
Petrochemical
Dry Transformers are extremely critical to the integrity of the electrical distribution, if the transformer fails then it is highly likely that the entire infrastructure will suffer an electrical outage, which is costly in both down time and repair costs.
Exertherm is the World No.1 for 24x7 Thermal Condition Monitoring. Our solution is specifically designed to provide continuous thermal monitoring for Dry Resin Core Transformers, utilising our IR Sensors to monitor critical connectors on both Low Voltage and High Voltage sides.
We protect your electrical assets from costly outages while increasing safety via remotely monitoring equipment, increasing asset integrity and minimizing downtime.
Exertherm™ is the next technology step from periodic thermal imaging inspections and provides significant & tangible benefits over traditional periodic thermal inspection...
Protect your electrical infrastructure from outages with Exertherm 24x7 Thermal Condition Monitoring.
Datacenters
Oil & Gas
Finance
Utilities
Healthcare
Mining
Marine
Petrochemical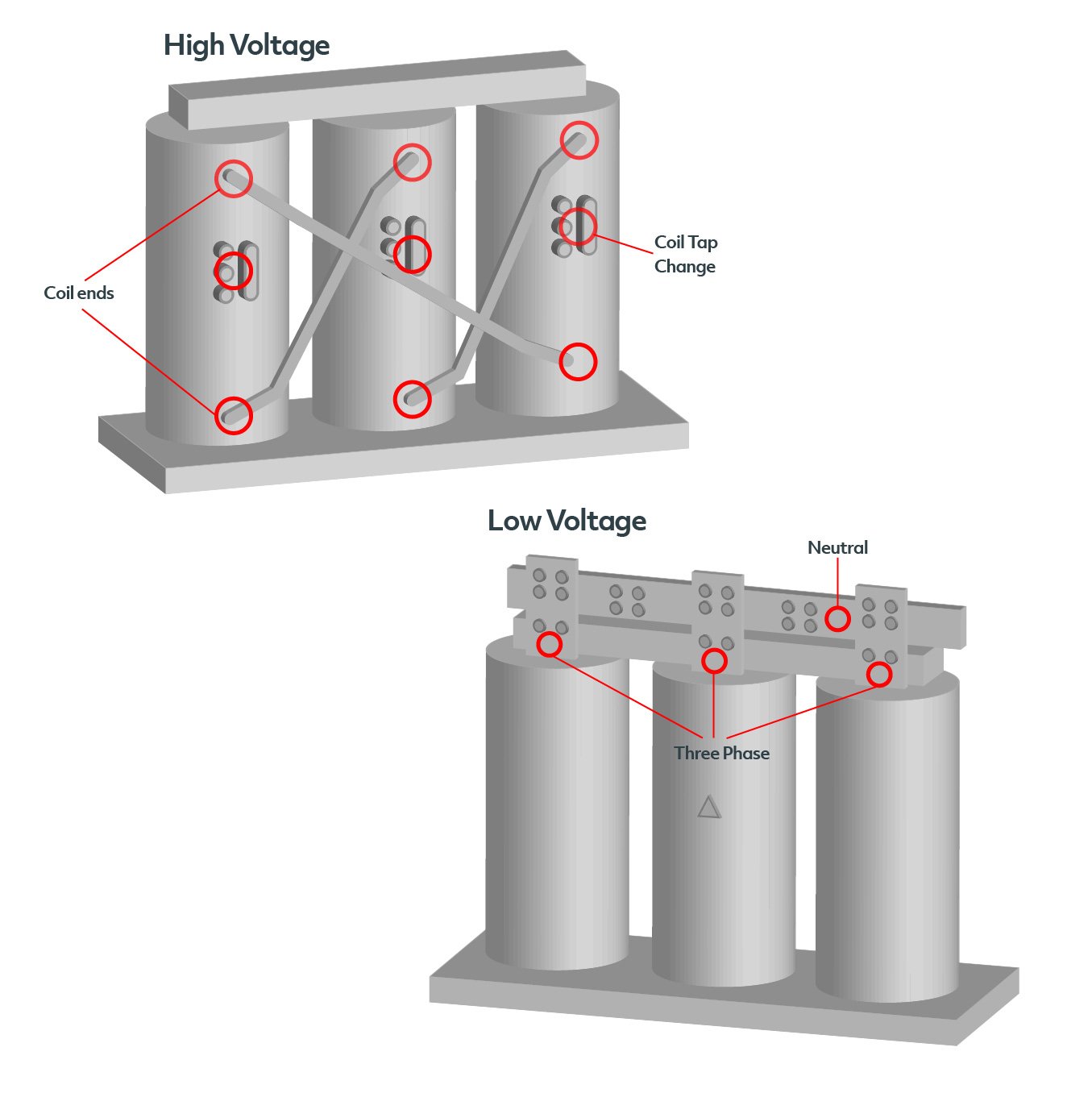 Protect your electrical infrastructure with Exertherm 24x7 Thermal Condition Monitoring.
For High Voltage:
IR Sensors continuously monitor both ends of each coil
IR Sensor also continuously monitor coil tap connections
For Low Voltage:
IR Sensors continuously monitor the three phase and neutral
IR Sensors then connect back to the Exertherm Modbus Datcard, which collects and transmits the Sensor temperature data, and activates alarms when a fault is detected.
Features
Permanently installed sensors
The only non-contact & non-powered Transformer monitoring solution
Reliability with a Lifetime Guarantee
Real time data 24x7 / 365
Suitable for New build or Retrofit
OEM Vendor neutral
Benefits
Increased operational uptime & reliability
Increased facility & operator safety
Reduced risk of fire/explosion resulting from arc flash
Reduced unplanned maintenance
No future inspection downtime
Cost savings from reduced outages
Why Exertherm?
Exertherm® is the global number one provider of 24x7 Thermal Condition Monitoring for electrical infrastructure, successfully installed worldwide by all major OEMs. We deliver complete solutions for LV/MV Switchgear, MCC Drawers, Dry Transformers and more. We're so proud of our proven reliability we even offer a zero maintenance lifetime guarantee.
World No.1 Thermal Condition Monitoring Solution with Proven Reliability

Zero Maintenance & Lifetime Guarantee on Sensors

Complete Thermal Monitoring Solution for LV/MV Bus, Cable, MCC + TX

Sensors providing accurate data of uniform quality are a key part of the IIOT jigsaw - no sensors = no data

Wireless sensors pose a potential hacking threat to critical infrastructure. Exertherm is hardwired, and thus avoids any potential hacking issues.

Exertherm solutions are accepted & have been successfully installed in major projects globally by all major OEMs.
Find out what makes Exertherm® the World's No.1 choice in our brochures and white papers.
View Downloads
Product
IR Sensor For busbar joint monitoring
Exertherm Modbus Datacard Collects data from 8 x IR Cable sensors
ARM XL Panel mounted HMI
*Components and quantities will vary based on your requirements.
Connectivity
There are two connectivity options available:
Raw Data Transfer
Modbus RS485: Exertherm Datacard direct to BMS/SCADA Via converter TCP/IP to BMS/SCADA
Exertherm ARM XL HMI
Local graphics on HMI & status LED + local/remote alarms + transfer of raw data via Modbus TCP/IP
Global OEM Approval

24x7 Thermal Protection

Zero Maintenance

Lifetime Guarantee

Simple Installation